REGO Rapid Recovery - 1.6kg (Vanilla)
Produkt Code
The original complete recovery product in a large 1.6kg tub.
A blend of protein, carbohydrate, electrolytes & minerals.
Use after exercise to help muscles recover & rebuild - Vanilla flavour
Award Winner! 2016 Men's Running Award for Best Post-Race Nutrition
KOSTENLOSE LIEFERUNG ÜBER 40€
Produkt informationen
Vanilla flavoured recovery drink powder in a 1.6kg tub, ideal for regular use.
About SiS REGO Rapid Recovery
SiS REGO Rapid Recovery is a complete recovery product to be consumed immediately after exercise. It contains a blend of carbohydrate (23g), protein (20g) and electrolytes with vitamins and minerals.
Rapid replenishment of your glycogen stores and the provision of protein helps you to get the most from your training and prepare you for your next session.
Key Features
Provides 20g of protein isolate which contributes to the growth and maintenance of muscle mass with 2g of Leucine to increase the content of essential Amino Acids.

Use after exercise to replenish your energy stores fast
Ideal for lactose intolerant individuals
Suitable for: Vegetarians; Coeliacs; Gluten Free; Wheat Free; Nut Free. Contains Soy.
BBE: Minimum 6 Months+
Produktverwendung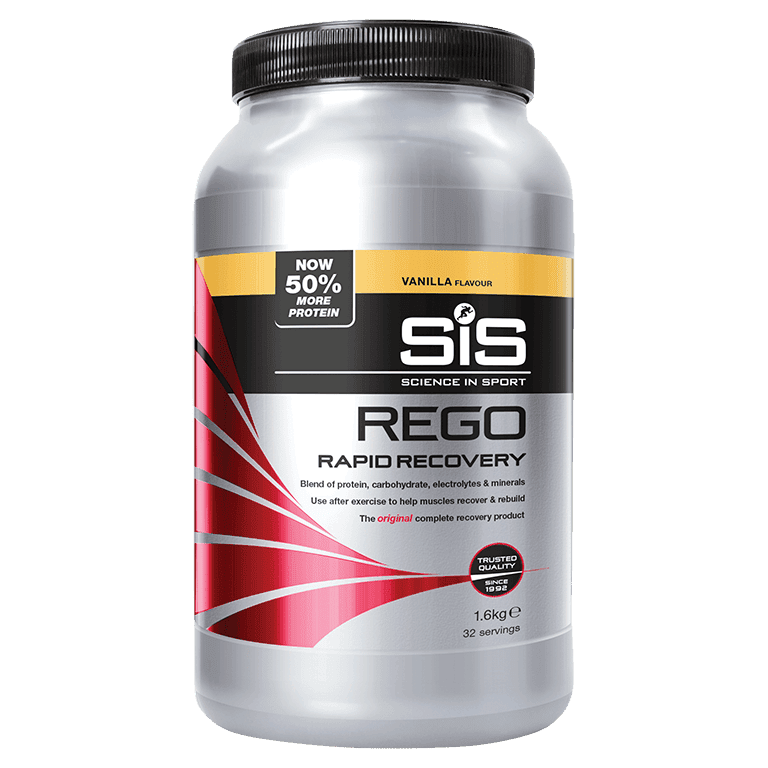 Ernährungs Info
| Typical Values | Per Serving (50g) | Per 100g |
| --- | --- | --- |
| Energy | 782kj/184kcal | 1564kj/368kcal |
| Protein | 20g | 40g |
| Carbohydrate | 23g | 46g |
| of which sugars | 5.1g | 10g |
| Fat | 1.3g | 2.6g |
| of which saturates | 0.2g | 0.4g |
| Fibre | 0.3g | 0.6g |
| Salt | 1.0g | 2.0g |
| Vitamin D | 1.0ug (20%) | 2.0ug (40%) |
| Vitamin E | 2.8mg (23%) | 5.6mg (46%) |
| Vitamin C | 24mg (30%) | 48mg (60%) |
| Thiamin | 0.5mg (45%) | 1.0mg (90%) |
| Riboflavin | 0.6mg (42%) | 1.2mg (84%) |
| Niacin | 7.3mg (45%) | 14.6mg (90%) |
| Vitamin B6 | 0.8mg (57%) | 1.6mg (104%) |
| Folic Acid | 50ug (25%) | 100ug (50%) |
| Vitamin B12 | 0.4ug (16%) | 0.8ug (32%) |
| Biotin | 18ug (36%) | 36ug (62%) |
| Pantothenic Acid | 1.5mg (25%) | 3.0mg (50%) |
| Potassium | 300mg (15%) | 600mg (30%) |
| Magnesium | 57mg (15%) | 114mg (30%) |
| Iron | 2.4mg (17%) | 4.8mg (34%) |
| Zinc | 2.0mg (20%) | 4.0mg (40%) |
| Iodine | 23ug (15%) | 46ug (30%) |
Ingredients:
Carbohydrate Mix (46%) (Maltodextrin (from Maize), Fructose), Protein (46%) (Soy Protein Isolate), Electrolytes (3%) (Sodium Chloride, Potassium Chloride, Calcium Lactate, Magnesium Oxide), Natural Flavourings, L-Leucine, Emulsifier (Soy Lecithin), Thickener (Xanthan Gum), Vitamins & Minerals (Ascorbic Acid, Nicotinamide, Alpha Tocopheryl Acetate, Ferric Pyrophosphate, Zinc Sulphate, Calcium Pantothenate, Pyridoxine Hydrochloride, Riboflavin, Thiamin Mononitrate, Calcium Citrate, Folic Acid, Potassium Iodide, Biotin, Vitamin D3, Cyanocobalamin), Sweetener (Sucralose)
Lese mehr
FAQ's
When should I have this?
SiS REGO Rapid Recovery should be consumed within 30 minutes of stopping exercising after short, intense sessions and prolonged endurance sessions.
What is the difference between REGO and Whey Protein?
Use SiS REGO Rapid Recovery when the aim is to replenish carbohydrate energy stores and take on protein for rebuild, Whey Protein contains a lower level of carbohydrate.
Do I mix with water or milk?
Although milk is high in protein, milk is made up of 80% casein, which is slow digesting. Mix with water to increase absorption rates and aid hydration levels.
What type of protein does this contain?
SiS REGO Rapid Recovery contains soy protein isolate, which is made from the de-fatted beans leaving a high quality protein source and a full amino acid profile.
Why isn't it suitable for vegans?
SiS REGO Rapid Recovery contains vitamin D, which is derived from animal sources.
How much protein is there per serving?
SiS REGO Rapid Recovery contains 20g of protein.
How many scoops per serving:
Add 50g (approximately 3 scoops) to 500ml of water and mix well.
You may also like
Wir haben andere Produkte gefunden, die dir gefallen könnten!
Verified Reviews
Rated

4.9

out of 5 based on

20

Reviews
Mixes well and tastes great
Really good product for after training and biking
Great taste and benefit for soothing post workout aches. Will look out for a deal to be able to buy direct from SIS in the future
Great product, always feel better after taking this product after a long cycle, great taste too!!
Love the flavour and quick and easy to use. Seems to do what it says re aiding recovery.
Very good and tasty recovery drink and good value for money.
Good for daily riding & recovery
Easy to mix and take as part of recovery after training. No side affects.
Same as chocolate Rego review
Objectivement, le goût du produit n'est pas désagréable. Sa dilution est très bonne et la quantité est confortable. Niveau performance, je n'ai eu aucun désagrément depuis que je l'utilise et je trouve qu'il aide vraiment à la récupération. Seul bémol, la dosette intégrée n'est pas très pratique. En effet, la quantité conseillée pour un shaker est une dose de produit de 50mL pour 500mL d'eau. Et la dosette fournie a une contenance de 35mL.
Nice taste and does what it says on the tin
Spot on does what it says on the tin - helps recovery and can be taken straight away after exercise without any hassle! And I like Vanilla
Does what it says on the tin! Tastes ok
Always use this after a long cycling ride to recover. I like the chocolate REGO too. Helps me anyway
Good value and tastes nice .
I thought I would give this a try but was expecting something bland (given it's mixed with just water) It tasted very nice and mixed easily. Really pleased I gave it a try. I'd recommend this to others and will buy again.
Always use this post training, speeds up my recovery and has definitely improved my strength and overall physique (coupled with a decent balanced diet) Both vanilla and strawberry taste great and mix well in a shaker.
seems to aid recovery, less aches the next day, I prefer the Banana, but this is the next best if not available.
Great product, makes cramp go after 1 minute of taking it, no other product does this, great flavour too!!
Great recovery product mixes easy