Produkt Code
20-pack-energy-caffeine-gels
GO Energy + Caffeine Gels - 20 Pack
Produkt Code
Schnelle Energiezufuhr mit 75 mg Koffein für einen mentalen und physischen Leistungsschub.
Das Energy Gel mit Beerengeschmack in seiner leicht zu öffnenden Packung eignet sich perfekt für unterwegs.
KOSTENLOSES HYDRO BEI BESTELLUNGEN ÜBER €50
Produkt informationen
Das GO Energy + Coffein Gel 75mg baut auf der etablierten Wissenschaft des GO Isotonic Energy Gels auf, dem weltweit ersten und einzigen wirklich isotonischen Energie-Gel.
<
Dieses Produkt liefert 22g Kohlenhydrate und 75mg Coffein pro Gel (Zitrusaroma). Ideal für hochintensive Rennen und lange, harte Tage auf der Straße. Es hat sich wiederholt gezeigt, dass Koffein die Leistung verbessert, indem es die Wahrnehmung der Anstrengung senkt, indem es genau dann einen Schub gibt, wenn Sie es brauchen.
Das GO Energy + Coffein ist sauber im Mund und leicht verdaulich. Für den Fall, dass Sie einen Energieschub wünschen, aber auch die Vorteile von Koffein nutzen möchten. Verwenden Sie es vor oder während des Sports für einen zusätzlichen physischen und mentalen Fokus, wenn Sie sich einen Vorteil verschaffen wollen..
Hauptmerkmale:
• 75 mg Koffein pro Gel
• 22 Gramm Kohlenhydrate pro Gel
• Formulierung, die schnell und effektiv Energie liefert
• Zum Inhalt: 6 x 60ml Gele pro Packung
Produktverwendung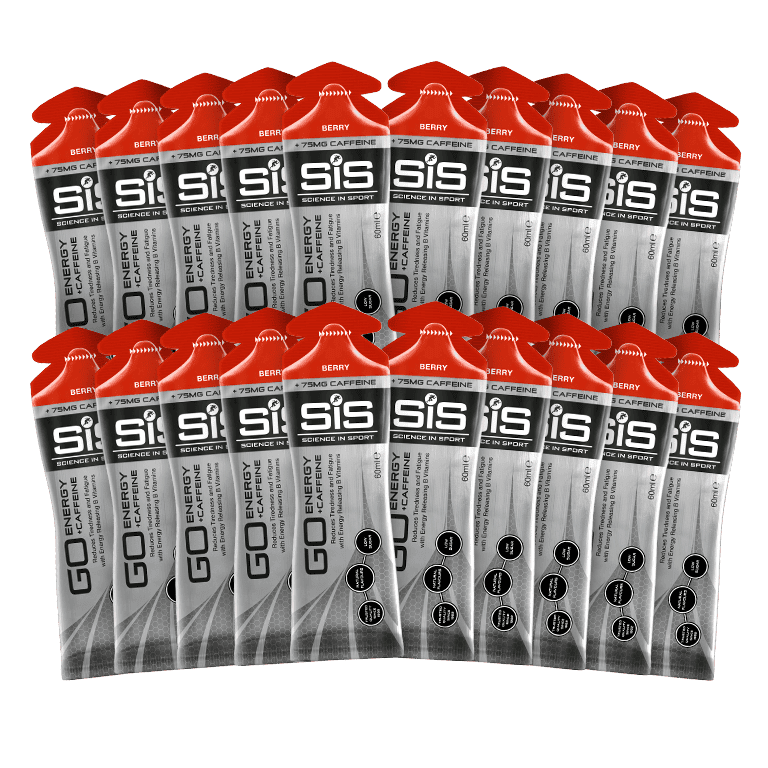 Empfohlene Nutzung
Consume 1 gel 1 hour before exercise for high intensity, short duration events to ensure the body starts with elevated caffeine levels. In longer duration events consume no more than 2 double caffeine gels per day. Ensure you keep hydrated. This product is not intended for children, under 16's or pregnant women. Where hydration is important, SiS GO Energy + Caffeine Gel 150mg can also be consumed with SiS GO Hydro or GO Electrolyte to ensure a combination of energy, caffeine and fluid delivery during exercise.
Directions for Use
Simply tear off the top of the packaging and consume - there is no need to mix with water.
Vorteile
Caffeine acts centrally on the brain to lower the perception of effort, which is particularly noticeable in longer events. In distance events over 90 minutes, mental tiredness as well as physical fatigue plays a large role in determining performance as the event progresses. Caffeine can help to maintain physical performance in this situation.
Depleting your carbohydrate stores during exercise is one of the major causes of fatigue. Delivering the additional carbohydrate provided in SiS Energy + Caffeine Gels during exercise can help improve performance, race times and delay the onset of fatigue.
Informed Sport Registered
Our complete product range is developed using a world-class approach to banned substance testing, providing assurance for athletes. For more information on Informed Sport & our unique world class approach, click here.
Suitable For: Vegans, Vegetarians, Lactose free, Gluten Free, Wheat Free, Nut Free, Soya Free
Ernährungs Info
| Typische Werte | Pro 100 ml | Pro Portion 60 ml |
| --- | --- | --- |
| Energie | 627kj/148kcal | 376kj/89kcal |
| Protein | 0.0g | 0.0g |
| Kohlenhydrate | 37g | 22g |
| davon Zucker | 1.3g | 0.8g |
| Fett | 0.0g | 0.0g |
| davon gesättigte Fettsäuren | 0.0g | 0.0g |
| Salz | 0.1g | 0.04g |
| Koffein | 125mg | 75mg |
Inhaltsstoffe:
Wasser, Maltodextrin (aus Mais) (33 %), natürliche Aromen, Geliermittel (Gellan, Xanthangummi), Säureregulatoren (Zitronensäure, Natriumcitrat), Koffein (150 mg), Konservierungsmittel (Natriumbenzoat, Kaliumsorbat), Süßungsmittel (Acesulfam-K, Sucralose), Natriumchlorid, Antioxidationsmittel (Ascorbinsäure)
Lese mehr
FAQ's
Wie häufig wird der Verzehr empfohlen?
Wir empfehlen einen maximalen Verzehr von 4 x SiS GO Energy + 75mg Gel pro Tag.
Wann ist der beste Zeitpunkt für den Verzehr von SiS GO Energy + Caffeine Gel?
Nimm 1 Gel 30 Minuten vor kurzen, intensiven Trainingseinheiten, um eine mentale Stimulation für den bevorstehenden Wettkampf zu erzielen. Nimm 1-2 Gele gegen Ende eines langen Ausdauertrainings, um Aufmerksamkeit und Konzentration zu verbessern.
Welchen Nutzen hat Koffein?
Koffein steigert nachweislich die Ausdauerleistung durch mentale Stärkung und verbessert die Aufmerksamkeit und das Konzentrationsvermögen.
Sind diese Gele isotonisch?
Das SiS GO Energy + Caffeine Gel ist nicht isotonisch. Das zusätzliche Koffein erhöht die Konzentration des Gels.
Kann ich Magenprobleme bekommen?
75 mg Koffein entsprechen einer Tasse Kaffee oder einer Dose mit einem Energy Drink. Individuell reagiert jedoch jeder anders auf Koffein, deshalb solltest du es während dem Training ausprobieren, bevor du das Gel während eines Wettkampfs verwendest.
Passen sie auch in die Tasche meines Fahrradtrikots?
Ja! Alle SiS GO Gele sind leicht, kompakt und wurden so gestaltet, dass Sie in Trikottaschen, Fahrradtaschen und Hüfttaschen passen. Die Verpackungen wurden druck-geprüft. Du musst Dir also keine Sorgen machen, dass die Verpackung während des Trainings aufreißt oder platzt.
You may also like
Wir haben andere Produkte gefunden, die dir gefallen könnten!
Verified Reviews
Rated

4.8

out of 5 based on

34

Reviews
I like caffeine Gels. Easy to swallow and very effective. Make me move faster and do exercise at gym.
great flavor!! amazing taste.... very useful, no water needed
Fast energy when you need it!
Nice punch of caffeine. Will use more.
Great product at a great price. Plus quick delivery.
use these gels near the end of my 10 mile, half marathon and marathon races to give me a boost to maintain pace to the end. Easy to use while running
This is a really good product !!
As a distance cyclist I always carry one to use for the last hour. They taste great and not sickly. Very useful before a run especially if you've been on your feet all day at work.
Very pleased with price and product
Great value. Perfect for long runs
Great taste, easy to digest.
Gives a boost just when you need it!
Took for time before a training session Definitely made a difference in my mental state.Did not feel lethargic but more energetic
Great product - good taste.
Expensive but really work and usually on sale
Excellent nice taste fast energy when you need it!
Great value and great taste. I regularly use these gels and I can recommend them.
I participate in full & half marathons every year and greatly rely on these gels through my runs. There are many gels out there but the gels by SIS work so well that I swear by them & are always with me when I do my marathons. The gels also taste good with many different flavours & provide the right amount of energy that I need to help me through my runs.
My favorite caffeinated gels!
Product is awesome. Best taken either before a big climb or after a long ride on the bike to give you an extra kick. Highly recommended.
These are my go-to pick-me-up to finish longer training rides strong. Great flavour, and the caffeine is a subtle boost to see you through to the end.
Great product, good taste, a nice boost without that dried out sticky mouth you get from some gels. Recommended!
Used a few this morning while on the bike, felt good 😊👍👏
Great taste, great value.
Taste amazing highly recommended