GO Isotonic Energy Gel - 20 Pack (Vanilla)
30% Rabatt
Sonderangebot
€ 28,70
War
€ 41,00
Produkt Code
Fast, easily digested energy - the world's first isotonic energy gel.
Vanilla energy gels provide a fast energy boost with no need for water, in easy to open packaging.
KOSTENLOSE LIEFERUNG AB 40€
Produkt informationen
The GO Isotonic Energy Gel was the world's first isotonic gel effectively delivering an easily digestible and quick supply of carbohydrate for energy during exercise.
They are designed to be consumed without water, minimising the risk of being bloated that can sometimes occur with over-drinking.
Provides you with 22 grams of carbohydrate per gel.
Key Features
Truly isotonic formulation - no need for water
22 grams of rapidly absorbed carbohydrate per gel
Convenient easy-to-take format
Contents: 6 x 60ml gels per pack
Flavoured Maltodextrin gel with added sweetener.
Awards
Winner of the Queens award for enterprise, this innovative product continues to be seen at the forefront by endurance athletes. Use during endurance sessions and events to help avoid flagging.
Produktverwendung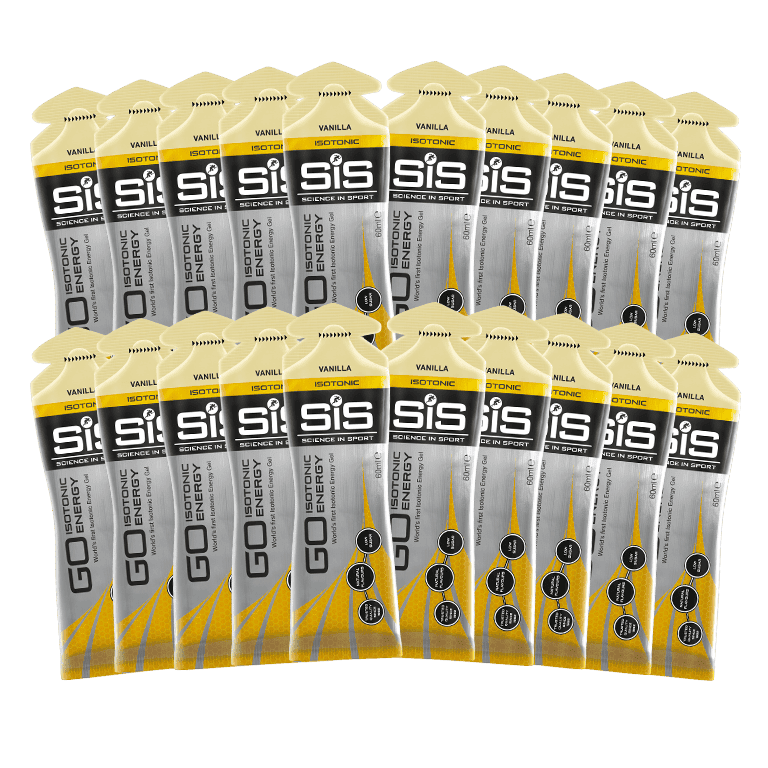 Empfohlene Nutzung
Consume 1-3 gels per hour to deliver approximately 60 grams of carbohydrate and maximize carbohydrate utilization rates. Where hydration is also important, SiS GO Isotonic Gels can also be consumed with SiS GO Hydro or with SiS GO Electrolyte to ensure a combination of both energy and fluid delivery during exercise.
Directions for Use
Simply tear off the top of the packaging and consume - there is no need to mix with water.
Vorteile
Depleting your carbohydrate stores during exercise is one of the major causes of fatigue. Delivering additional carbohydrate during exercise is known to improve performance, race times and delay the onset of fatigue.
The Isotonic formula allows the gel to empty from the stomach quickly as no fluid needs to be drawn into your stomach to dilute the gel, providing fast energy. SiS GO Isotonic Energy Gels are highly practical and can easily be carried without the requirement for bulky bottles.
Informed Sport Registered
Our complete product range is developed using a world-class approach to banned substance testing, providing assurance for athletes. For more information on Informed Sport & our unique world class approach, click here.
Suitable For: Vegans, Vegetarians, Lactose free, Gluten Free, Wheat Free, Nut Free, Soya Free
FAQ's
When should I consume these?
Consume 1-3 gels per hour during endurance exercise to maximise carbohydrate utilisation rates. Alternatively, take one halfway through repeated high intensity exercise (such as football or rugby) to rapidly replenish glycogen stores.
Is this gel Isotonic?
Yes, this gel was the first truly isotonic energy gel.
Are these 'natural'?
SiS GO Isotonic gels contain natural flavourings.
Why are these better than regular foods, for example a banana?
SiS GO Isotonic Energy Gels are designed to be absorbed fast into your gut, providing fast energy. Some solid foods can take a while to digest as there's more fat and fibre in whole foods, which during exercise can cause feelings of bloating and discomfort.
Do these contain aspartame?
No, SiS Gels do not contain aspartame.
Will they fit in my cycle jersey pocket?
Yes! All SiS GO Gels are lightweight, compact and designed to fit in jersey pockets, cycle bags and waist packs. They are pressure tested, so don't worry about the packaging tearing or bursting during exercise.
You may also like
Wir haben andere Produkte gefunden, die dir gefallen könnten!
Verified Reviews
Rated

5

out of 5 based on

5

Reviews
Quick energy boost. Easy digest to keep you riding. Highly recommend the vanilla.
Good taste only used a couple of pacs so far very pleased
Easily digested &not too sweet