GO Energy + Electrolyte Gel - 6 Pack (Lemon & Mint)
30% Rabatt
Sonderangebot
€ 8,82
War
€ 12,60
Produkt Code
Ideal for intense activity with higher sweat rates & a need for energy.
6 pack of energy gels in Lemon & Mint flavour with added electrolytes for fast energy and to aid hydration.
KOSTENLOSE LIEFERUNG ÜBER €40
Produkt informationen
Lemon & Mint flavour energy gels with added electrolytes to aid hydration - 6 pack.
About SiS GO Energy + Electrolyte Gel
The SiS GO Energy + Electrolyte gel (Lemon & Mint) builds on the established science of the SiS GO Isotonic Energy gel, the world's first and only truly isotonic energy gel.
The gel not only delivers a rapid supply of easily digestible carbohydrates (22 grams) for energy, but also provides 118mg sodium, 9.5mg potassium and 1.5mg magnesium per gel.
Benefits of SiS GO Energy + Electrolyte Gel
Electrolytes including sodium, potassium and magnesium are lost through sweat and need to be replaced in order to help the body maintain fluid balance, alongside an appropriate fluid intake.
Key Features
22 grams of carbohydrate per gel
Formulation delivering energy fast and effectively
0.3g salt per gel to replace key electrolytes lost through sweat
BBE: Minimum 3 Months
Informed Sport Registered: Our complete product range is developed using a world-class approach to banned substance testing, providing assurance for athletes. For more information on Informed Sport & our unique world class approach, click here.
Related Products
Produktverwendung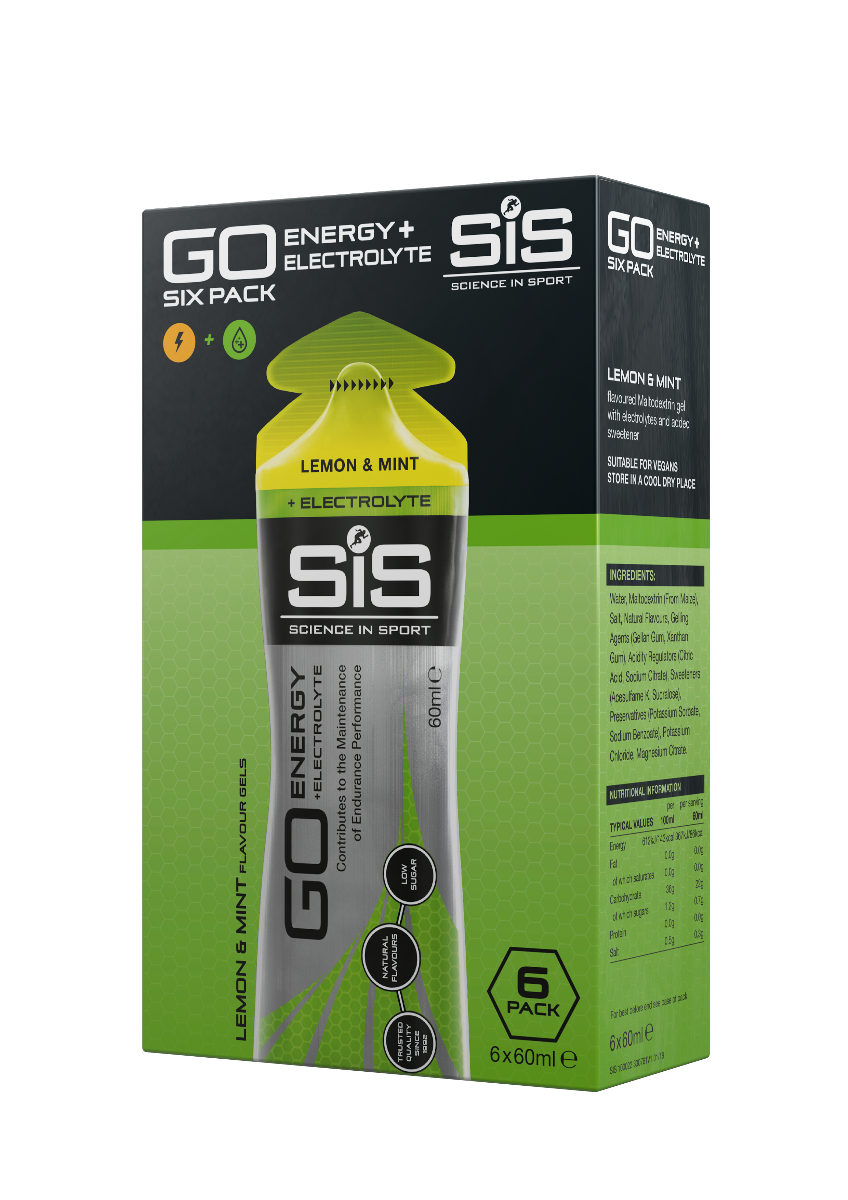 Ernährungs Info
| Typical Values | Per 100ml | Per Serving 60ml |
| --- | --- | --- |
| Energy | 612kj/143kcal | 367kj/86kcal |
| Fat | 0.0g | 0.0g |
| of which saturates | 0.0g | 0.0g |
| Carbohydrates | 36g | 22g |
| of which sugars | 1.2g | 0.7g |
| Protein | 0.0g | 0.0g |
| Fibre | 0.0g | 0.0g |
| Sodium | 0.5g | 0.3g |
Ingredients:
Water, Maltodextrin (From Maize), Natural Flavour, Salt, Gelling Agents (Gellan Gum, Xanthan Gum), Acidity Regulators (Citric Acid, Sodium Citrate, Malic Acid), Sweeteners (Acesulfame K, Sucralose), Preservatives (Potassium Sorbate, Sodium Benzoate), Potassium Chloride, Magnesium Citrate
Lese mehr
FAQ's
When should I have this versus your other gels?
Aim for 1 x GO Isotonic Energy Gel and 2 x GO Isotonic Energy Gels per hour during exercise lasting over 90 minutes. 1 x GO Energy + Electrolyte Gel can also be consumed before exercise to ensure electrolytes are available for fluid absorption.
Why do I need to have electrolytes?
During exercise, electrolytes are lost through sweating and must be replaced in order to maintain fluid balance and prevent dehydration.
Do they taste salty?
The gels do not taste salty and are available in refreshing raspberry and lemon & mint flavours.
Are these gels Isotonic?
The GO Energy + Electrolyte Gel is not isotonic as the additional of electrolytes increases the concentration.
Are these 'natural'?
GO Energy + Electrolyte Gel contains natural flavourings.
Do these contain aspartame?
No, Gels do not contain aspartame.
Will they fit in my cycle jersey pocket?
Yes! All GO Gels are lightweight, compact and designed to fit in jersey pockets, cycle bags and waist packs. They are pressure tested, so don't worry about the packaging tearing or bursting during exercise.
You may also like
Wir haben andere Produkte gefunden, die dir gefallen könnten!

Verified Reviews
Rated

4.8

out of 5 based on

20

Reviews
Nice flavour! Quick delivery
Very pleased with the items
Ottimo prodotto di facile assimilazione
I'll admit at first I thought Lemon & Mint, mm not sure about that taste combo. However it's really very nice & well worth trying. Highly recommended & I'll definitely buy it again.
Great gentle on the stomach, tastes great and keeps me going on my run
Ancora non utilizzati. Scadenza dei gel piuttosto ravvicinata (presi ad agosto ed hanno durata 5 mesi), mi domando se sia lo standard
GEL TI FACILE DIGERIBILITA' E BUON GUSTO
Great flavour and easy to absorb.
A* what a product. Lemon and Mint ? Goes well together
Excellent flavour and easy to take
Great nutrition, virtually no sugar, and the electrolytes are great to consume towards the end of a hot ride. Let down only by the flavour, which tastes more like salted caramel than lemon and mint. That said, it has to disguise the taste of the electrolytes so realistically they have done the best they could!
Great taste, and easy to open while riding.
Refreshing and zingy. Does the job and tastes great too.
Good taste and good product
Cool mix of sweet and refreshment. Not to rich on the stomach either.
Not heavy, perfect gel for the cycling activities. Easy to take.